Opening Day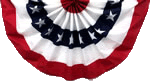 If you've noticed the latest panel on MLBlogs.com, you can see that we matched a "purty 30" of MLBloggers to the team templates. The idea was to give you not only a different mix of all the Opening Day anticipation but also to show what all 30 team templates look like (other logos available) if you want to start a new MLBlog.
Hunting down the 30 MLBlogs was an enjoyable experience, and it is important to note that those are not in any way represented here as the "best" blogs for those individual teams. That's subjective, anyway, and we like how every MLBLog is unique in its own way. It was simply in the spirit of fun to show one of each, and we try our best to mix it up so that all MLBloggers get eyeballs. We also may substitute other blogs for particular teams in that panel between now and Mark Buerhle's first pitch.
Let the season begin. Let the MLB.TV stream. In the meantime, progressive updates:
Had to remove the Countdown because it was stuck on 2 days and 6 hours. So much for copying View Source javascript. Let's just say Opening Day is almost here!
Dan Holmes is with the National Baseball Hall of Fame and writes a great MLBlog called From Cooperstown. Make sure you see his Opening Day retrospective.
We are very pleased that Scott Reifert's wife finally started reading one of the most-read blogs on the Internet. Because the season is opening at U.S. Cellular Field, it's also worth looking at Scott's post earlier this week about the top White Sox moments from 2005. He got Ozzie, Crede and the whole gang to list their personal favorites just for the MLBlog.
Just did a Boston radio show for 15-20 minutes (writing this at 8:30 pm ET Friday), and the most interesting question was about which storyline I am most interested to watch now. My answer was, "How can you narrow down 200 to 300 of them?" Just look around MLBLogs and you can see them. What will all those unbelievable Toronto acquisitions lead to? Will we see the old Nomar and will Grady's new-look Dodgers be this year's latest surprise story in late October? Is there a better story than Boone Logan, who played Rookie ball last year and just broke camp with the world champs? Will the Braves make it 15 in a row or do the Mets perhaps celebrate a 20th anniversary in style? You can't begin to narrow it down to one story; it's the anticipation of the impossible that we love.
Public shout-out to Arielle at Dispatches from Red Sox Teen Nation for a prize-winning essay that she was kind enough to post on her MLBlog.
'Stros Bro just answered 10 Burning Questions for 2006, and you might want to steal his questions (he stole them first) and post them with your own answers. Braves and Bomber fans probably will like his answers.
20 milestones in the history of Opening Day in Cincinnati:
1. 1876: First Opening Day; no parade, no hoopla, no sold-out crowd
2. 1884: Reds inaugurate new ballpark; portion of stands collapse, injuring dozens
3. 1889: First Opening Day crowd of over 10,000
4. 1895: First "First Pitch" ceremony on Opening Day
5. 1890: First Opening Day parade
6. 1901: Coldest opener on record at 35 degrees
7. 1910: First Opening Day crowd over 20,000
8. 1920: First Appearance by Findlay Market in Opening Day festivities
9. 1923: First Opening Day crowd over 30,000
10. 1924: First broadcast of Opening Day on radio
11. 1948: First televised opener
12. 1959: Last year fans allowed to sit on the field on Opening Day
13. 1966: First night-time home opener, after rain cancels original Opening Day date
14. 1971: First Opening Day crowd over 50,000
15. 1975: Hank Aaron ties Babe Ruth's all-time home run record
16. 1977: Four inches of snow morning of game; opener starts on time
17. 1996: Umpire John McSherry collapses from fatal heart attack
18. 1998: Earliest Opening Day, March 31; weather throws curve with 80-degree temp
19. 2003: Reds debut new Great American Ball Park on Opening Day
20. 2005: Joe Randa wins it with a walk-off homer, first in Reds Opening Day history